Today I'm so excited to welcome Jaime from
Polkadots on Parade
!! I just LOVE the name of her blog and her blog is just as fun as it sounds!! I link up to her
Wow Me Wednesday linky party
every week and always find such great inspiration there!
So happy to have you here at Love Sweet Love Jaime, show us whatchya got!


Hi Friends!!
I'm Jaime from Polkadots on Parade!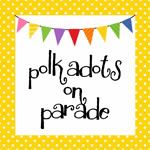 I'm loving this time of the year for all the craftiness it brings out in people!
I think we are all a little more inspired this month!
Christmas to me means baking up some sweetness!
Get your HO HO on with these holiday hotpads!
Begin with 4 squares of Insul-Brite and 4 squares of fabric, 8" square.
Set your stitch length long.
Baste each piece of fabric to a piece of Insul-Brite.
Then pair up the sewn squares, fabric sides together and stitch them 3/4 of the way around the hotpad.
Turn hotpad right side out and stitch all the way around the edge, closing the hole.
And your hotpads are complete!

Unless you want them fancy, and we do!


Cut your letters out of coordinating fabric.
Pin them on the hotpads and applique with a zig-zag stitch.
HO HO!!
Happy HO HO holiday hotpads!!
Thanks Angela for having me here today!
Happy happy holidays everyone!!
------------------------------------------------------------------------------------------
Those are SOOOO adorable! You guys know I do not cook, I do not bake, and I really spend no time in the kitchen other than to eat food my husband makes, BUUUT my cute kiddos and I are having our Christmas baking day this weekend and I'm thinking I just might need to whip these up for the festivities...maybe they will help me
enjoy
the baking rather than sweat the small stuff...ie my kids licking their fingers and sticking them back into the bowl, throwing flour by the handfulls onto the floor, adding an extra cup of salt b/c he thought it was sugar into the cookie mix....you know, stuff like that. Good thing none of these treats are coming to your house. Sorry neighbors, just bless the treats before you eat them and it'll be all good!
Thanks for the great tutorial Jaime!! Thanks for popping in today friends, EEEEEKK Christmas is coming so soon-I. Can't. WAIT! Love yall!