Today I am so proud to introduce to you, not only a fantastic blogger, crafter, and scrapbook extraordinaire, but also my FANTASTIC friend Jaime from
Wayward Girls' Crafts
! This girl and I go way back to the college days and we know stuff about each other that could make you blush so maybe we should just leave the introductions at that-for my sake anyway! :) Welcome Jaime, to day 5 of our Creating Christmas event!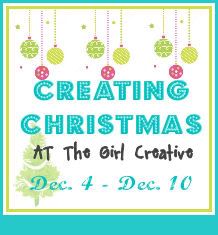 Hi Love Sweet Love and The Girl Creative readers! Thank you for having me here. I'm Jaime or Just Jaime from
Wayward Girls' Crafts
. I love repurposing, scrapbooking, home solutions, and crafting frugally. I'm so happy to be guest posting on Angela's blog. We have been real life friends since our husbands were in school and we lived in the same complex. With our other friend, Maranda, we formed "JAM," "JAM" took a dance class together, watched a whole season of American Idol and had tons of late night chats. We all moved away and I miss it. Ok so anyways, I should get to my craft and stop reminiscing!
I wanted to make a fun ornament with these seed beads I've had for ever! It was so easy, I think it'd be a great project for kids too.
Start with a flat ornament; kinda hard to tell this is a round, flat ornament. I got mine from Hobby Lobby for 50% off.
Pour some seed beads into the container the ornaments came in. This makes the perfect container!
Paint the ornament with Mod Podge.
Put the ornament in the container. The good thing about the container is that it's a perfect circle! Carefully take it out and allow it to dry. Add a bow and you're set!
It kind of looks like a sugar cookie with sprinkles to me. What do you think?
-------------------------------------------------------------------------------
I think it's GORGEOUS-definitely too pretty to eat! :) My kids would have SO much fun doing this, I can't wait to try it for our next craft day!!! I know I swore I wouldn't make anymore crafts hunny, but...it's for the kids and how can you say no to the kids?!
Thank you Jaime for spending the day with me here today, if we can't be together crafting in person I guess this will have to suffice! Make sure to stop by
Wayward Girls' Crafts
where Jaime crafts with her 3 beautiful sisters and momma (whose equally as beautiful!!!)! And thank YOU for stopping by today too and sharing one of my bestest friends with me! I'll be back tomorrow sharing one of my very own Christmas projects with you, see ya then!
*Don't forget to enter the
Shabby Apple necklace giveaway
going on now!**