How is your week going?!?! Are you finding lots of Christmas inspiration around blogland?!?! My house is so full of Christmas cheer I think we might all burst at the seams and then I see just
ooooone
more project I just
have
to do! ha ha...I just have to keep telling myself there's always next year and that's why I have
Pintrest
-to keep track of all my lovely ideas!
Well today I have ANOTHER fun blogger to dazzle you with inspiration for day 4 of our Creating Christmas week!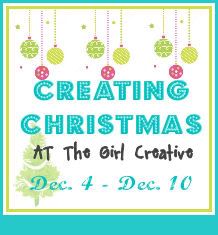 I am happy to introduce you to (if you don't already love and ADORE her) miss Courtney of Between U & ME, take it away girlfriend...


Hi Love Sweet Love readers! I am Courtney, the girl behind Between U & Me! I am a big fan of Angela's and I enjoy coming to hang out at Love Sweet Love to see all the awesomeness she has in store for us! I am constantly inspired by her and I am truly honored to be here today!
Over at Between U & Me, I really try and focus on cost conscious ways to make my house in to a home and really great DIY/craft projects that are easy to do and kid-friendly. Here is an example of the kind of stuff you can see over here at my blog home: Between U & Me
Today, I'm going to do a super easy tutorial on how to make a very awesome centerpiece for your table. Actually, it could really go anywhere,... it's just so purdy. Okay let's get started:
What you'll need:
3 Boxes Candy Canes
1 Glass cylindrical vase
Alotta hot glue
Flowers to put in your vase
Red ribbon
1 Spearmint
1. Wipe off your glass vase. (If yours is anything like mine was, it has dust all over it.)
2. Unwrap your candy canes and carefully position the first one on the vase and determine how tall you would like it. I cut about a 1/4 inch off the bottom of most of mine. Make sure you put each candy can up to the glass before you glue it down, to see if it needs to be trimmed. Candy canes are not identical, like I thought they were. Some are shorter than others.
3. Continue to go around the vase, gluing as you go.
4. Wrap a pretty piece of ribbon around the vase and place a spearmint in the very front.
5. To finish it off, place a pretty bouquet of flowers in it and enjoy what you've just created!
I hope you're having a great day!
-----------------------------------------------------------------------------------------------
Isn't that just gorgeous?!?! Courtney's blog is FULL of beautiful, original projects that are so inspiring! You must stop by and see what she's got going on over there-including a weekly
Crazy Cute linky party on Thursdays!
Thanks for helping me out today Courtney!
And, as always, thank YOU so much for stopping by today I'm so glad you're here!! See you back here tomorrow for day FIVE of Creating Christmas where the fun will continue with some craftiness from the
Wayward Girls
!
**Don't forget to enter the
Shabby Apple necklace giveaway
going on now!**