Has this week been fantastic or what?! I feel SO blessed to have had so many great bloggers help me out with Christmas projects this week and thank them SO much for their time guest posting on Love Sweet Love! I hope you have loved their projects as much as I have and were inspired to come up with some of your own holiday cheer. :)
For day SIX of Creating Christmas I wanted to jump back into the blog myself-if you don't mind :)-and share a project I shared over on
Crafty Scrappy Happy
at the beginning of the month.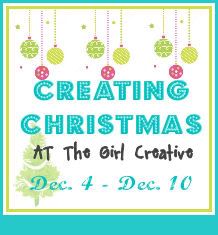 One of my absolute favorite things about the Christmas season is receiving cards from family and friends all over the United States and being able to 'connect' with them at this special time of year. In the past the "special place" I've stored all these meaningful cards has been on top of my kitchen counter-in a sloppy pile. I thought this year they deserved a real home, so I transformed an old shutter into a Christmas card holder!
I got this idea from a friend at church who was making them for an activity. She found a local store in our area that was selling old shutters for just $2 a piece-score! I definitely was not going to miss out on that deal so I grabbed a couple from her and busted out my Rustoleum spray paint!
I knew I wanted the color to come out a deep red to match some of my other Christmas decor, so I first spray painted one coat of Kona Brown and once that was dry added a couple coats of red.
It came out looking like this:
Which I actually really loved, but since it's absolutely impossible for me to leave anything alone, I wondered what some sanding and dark walnut stain could do...
Oh SQUEAL! Love!
I have so many projects that happily pay my garbage man visits, that on the rare occasion that something
actually
comes out the way I envision it in my head, I get pretty darn tootin' excited about it.
Originally I was just going to add a simple felt christmas tree, or stocking to the bottom corner for some embellishment- not that any is really needed since the cards that will go in the shutter are what "embellish" it-but when I turned out with this vintage bad boy I knew some of these old-school cut outs (from Michaels) were going to be sneaking there way onto the shutter.
Something about these old "pictures" just makes my heart melt...
...and I got a little carried away...
...but seriously, can you blame me?!?!
Since Christmas cards haven't started going out yet, I picked a few homemade/vintagey type ones that I've kept over the years and put them in so you could have a little looksy.
And that's it!
And since I hadn't decorated for Christmas yet when I made this, you get a picture of it in my makeshift studio-aka my living room...with a florescent lamp...at night, yikes. So just imagine it's sitting next to pretty Christmas decorations, in nice lighting, mmmmkay?!
Oh! And in case you were wondering, the cards stay tucked nicely into the slats because of the stick of wood that runs up the back (you know...the thing that you use to open and close the shutters, and if that rod has a name I obviously don't know what it is) but if you find a shutter that is missing that piece you could just use some wood glue and glue a thin piece of wood to the back and I think that would do the trick as well!
Yay! A pretty, organized, way to display all those special cards we receive from family and friends throughout the season!
Thank you so much for spending the week with me and helping me celebrate Christmas!! Buuuut the fun's not over yet...I have
one
more EXCITING project in store for you from one last guest poster tomorrow so come back ok?! And then...the moment you've been waiting for...(okay I know it's the moment IIII have been waiting for!!) will begin. The HUMUNGO. JUNGO. Christmas linky party!!! See ya tomorrow friends!
**Don't forget to enter the
Shabby Apple necklace giveaway
going on now!**