I'm so happy to introduce you to my new friend Isa, all the way from the Island of Malta, who blogs at
The M(agic) Chart
!! She's here to continue on with our week of Creating Christmas to show us a great felt project (and you all know how I love my felt!!) for day 2!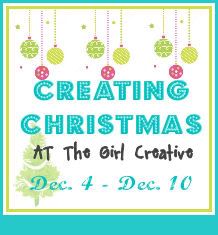 Take it away Miss Isa!!!
Hi everybody:)
I am Isa from
The M(agic) Chart
.
Today I am here to show you how you can do these great felt boxes you can use in so many different ways!

So, the first thing you need is to download the template I created to make things easier for you. Just click
here
and download the file.

Did you print it already? Good!


Now go get yourself your hard felt sheets, your glue gun and scissors and some clothes pins.


Cut the felt as shown in the template (circular shape with 6 cuts from the periphery until half the way to the middle of the circle):


If you want your box to look more like a cupcake you can do 8 cuts, as long as the space between the cuts is always the same, like I did here:


Once your cuts are all done, pour some hot glue along one side of the cut...


Get the other side and glue it. To make sure it stays safe, get a clothes pin to make that job:


Continue doing the same with the other cuts and in the end you'll have this:


Allow the glue to dry and... Voilá!

Pretty simple, right? You can use this box in many different ways and not only for Christmas, of course! I did some to keep my daughter's hair clips as you can check
here
.
Or you can use them to decorate your house for Christmas (I added a bit of glitter on the borders and inside to hide the glue):

Or you can even put a special little gift inside them!


This is my gift to you! I hope you enjoy it and I wish you all the best Christmas ever!


Thank you so much Angela for having me here to share my little project!


Kiss,

Isa
------------------------------------------------------------------------
Wouldn't these be perfect to take little neighbor treats in, or to send your kid to school with treats for their friends or teachers?! You could embellish with buttons and bows to dress them up, or keep them simple as is and either way they rock! Thanks for helping us create Isa! Make sure to pop by and give this girly some love (especially since her birthday was yesterday!!) from Love Sweet Love!
And Thank YOU for popping in for a looksy today, see you back here tomorrow with an ADORABLE clothing item idea you can whip up for your littles (or yourself!!) this Christmas, have a
Sweetly Lovely
Monday!!